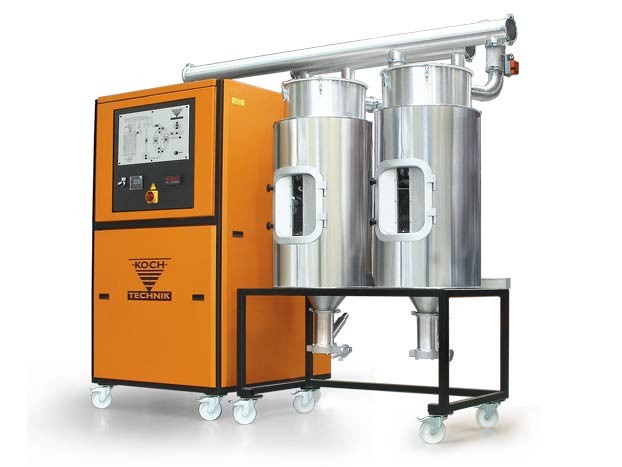 CKT 200 dryer for plastic pellets: Benefit oriented in every detail
From the suction box over the dew point control up to the patented ECO system control: With the CKT dryer series, we promise you easy and safe operation.
With this sophisticated technology, you have everything in hand to dry plastic pellets in larger quantities in a material-saving and efficient way.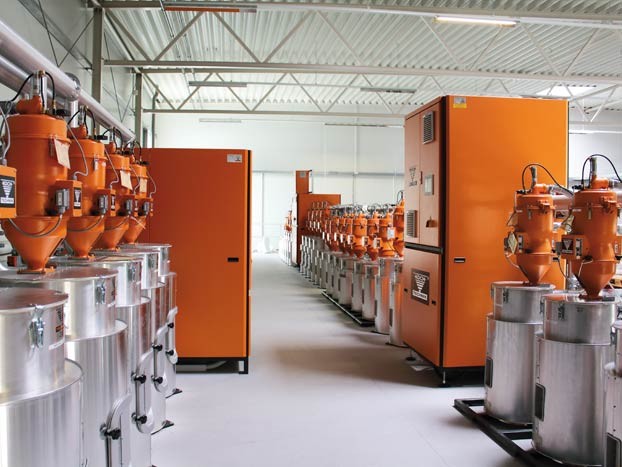 A row of 3 CKT dryers with drying containers for more than 25 different materials.
Our dry air technology – Your advantage: Bone dry, warm air flows through the drying containers and absorbs the moisture of the pellets.
The saturated dry air flows through a desiccant container where it is dehumidified and then it flows again through the pellets.
When the desiccant is saturated, the drying air flow is diverted to a fresh container and the previous container is regenerated. Due to the constantly changing regeneration, we can guarantee you a consistent pellet drying.
Economical drying: In addition to the effective granule drying, we also offer you efficient drying solutions.
They protect your material and save energy: With the KOCH ECO control system, you protect your material against overdrying and in combination with a dew point control and frequency-controlled blowers, you can save half of the energy normally used for the drying. We would be happy to advise you!
Characteristics of our CKT series for polymer drying:
Proven and fully developed pellet drying technology.
Depending on the version, from 110 m³/h to 2000 m³/h of dry air is generated
Material containers available in various sizes
The highest energy efficiency with additionally selectable components: Dew point control (incl. from CKT 300), KOCH ECO control system and frequency-controlled dry air supply
Existing drying systems can be easily extended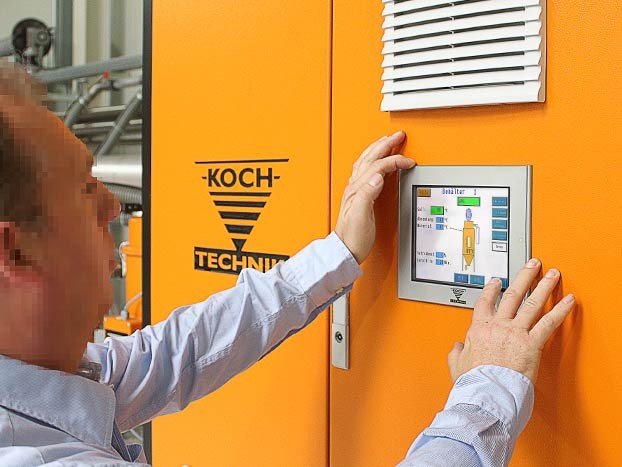 The optional touch panel control unit simplifies the monitoring of drying processes.
| | |
| --- | --- |
| Dryer | Possible dry air quantity |
| Type CKT110 | 110 m3/h |
| Type CKT200 | 200 m3/h |
| Type CKT300 | 300 m3/h |
| Type CKT500 | 500 m3/h |
| Type CKT800 | 800 m3/h |
| Type CKT1100 | 1100 m3/h |
| Type CKT1700 | 1700 m3/h |
| Type CKT2000 | 2000 m3/h |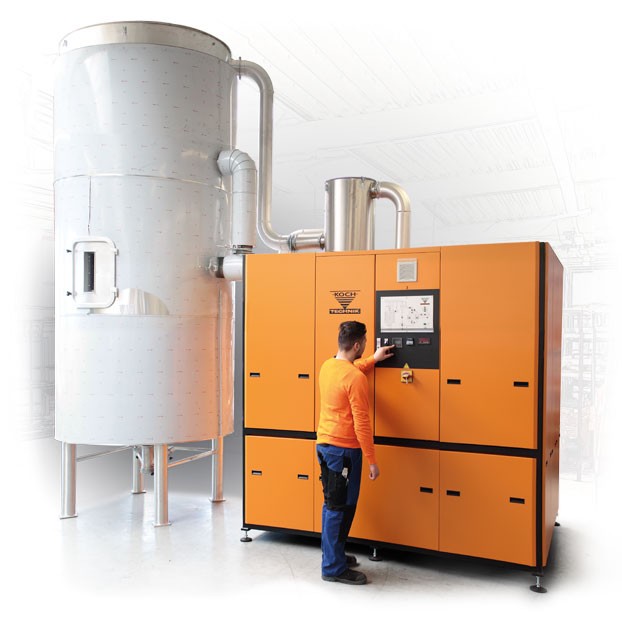 One of a total of 6 CKT1700 type pellet dryers shortly before delivery to China.
At present, the system of 6 CKT 1700 dryers with a capacity of 10,200 m³/h supplies 10 extruders with a calculated 5,750 kg of material per hour.