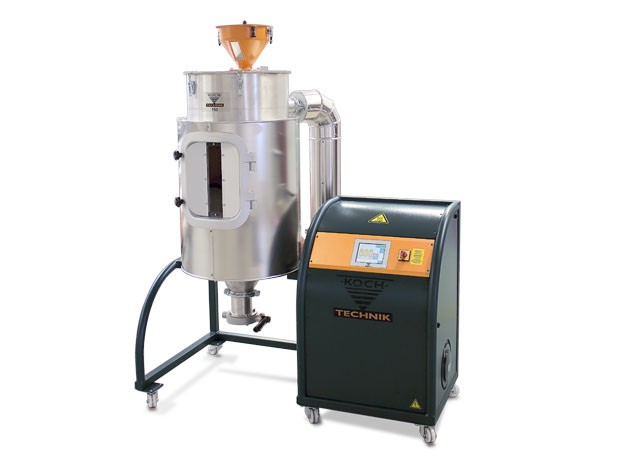 With our KKT type mobile dry air dryer, you can dry hygroscopic polymers right next to your processing machine. Depending on the model, from 55 m³ to 100 m³ of dehumidified air pass through the drying container per hour and the moisture of the granulates is absorbed.
The saturated return air flows over two alternate drying agent containers where it is dehumidified again. This way, deeply dried air is produced with a dew point of about -35°C. It corresponds to a value of 0.19 g H₂O per 1 m³ of dry air.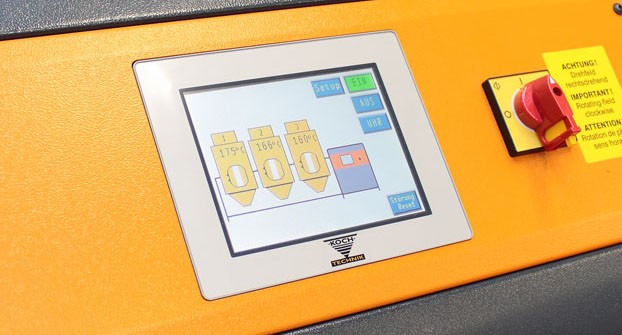 The current KKT models are available with a newly structured control unit:
Comfortable touch screen menu navigation
Drying programs adapted to the safe drying
Industrie 4.0 Vorbereitung durch Siemens S7 Kompatibilität
Materialdatenbank
Time switch control for specifying the drying times
Also available upon request:
Patented KOCH ECO control system
Dew point monitoring with data recording
Material supply system to fill more drying containers or the processing machine
There are three suitable programs to choose from for optimum polymer drying:
The ECO energy saving program saves up to 40% energy. It will pay off if a rarely dried material is taken.
If it has to go fast, you can dry high throughputs of consistent quality in the high-speed program.
The basic program is tailored to your daily standard production.
As required, our complementary dryers with different drying containers are available. Large containers are mounted on a mobile rack.
Type
KKT 55
KKT 75
KKT 100S
Dry air quantity
55 m3/h
75 m3/h
100 m3/h
Drying containers to be chosen from (in litres)
12/20/40/
60/100/150
12/20/40/
60/100/200
20/40/60/
100/200/300
Volume of an individual container max.
150 litres
200 litres
300 litres
Total volume of several containers
120 litres,
3 max.
160 litres,
3 max.
200 litres,
4 max.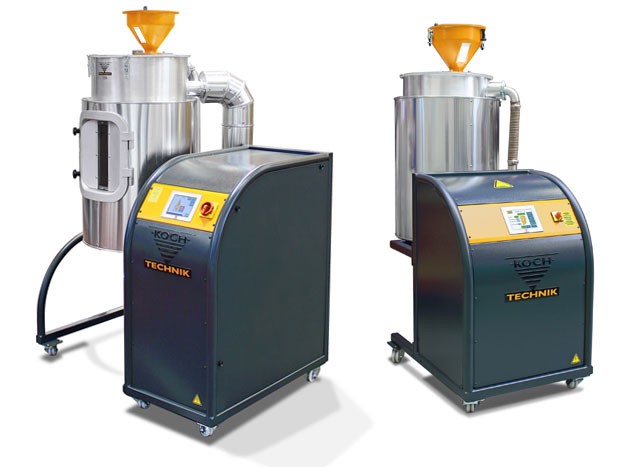 Mobile KKT dry air dryer series from Koch-Technik – quiet and reliable. KKT 100S on the left, KKT55 with a container behind the unit on the right.