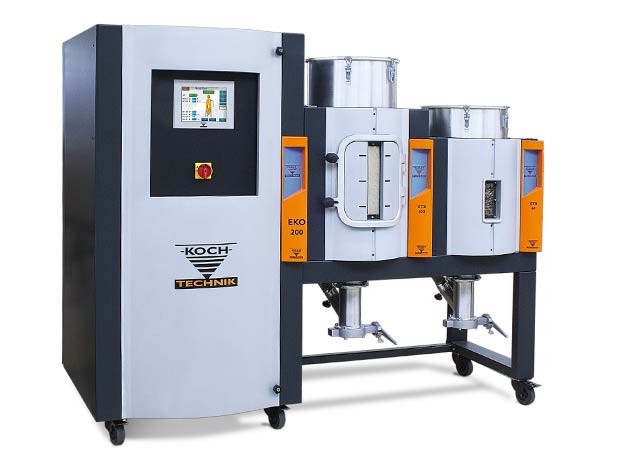 EKO Plastic Pellet dryer: Drying quality at the highest level
The EKO dry air dryer series is our proven dry air technology wrapped in a contemporary design and with a high level of energy efficiency.
Combined with the dew point and KOCH ECO system control as well as frequency-controlled blowers, they can save up to 50% energy during the pellet drying.
We offer the dry air dryers in the mobile variants EKO 110, EKO 200 and EKO 300 and also EKO 500 and EKO 800 stationary units with and without frequency-controlled blowers.
The standard version of the EKO system is controlled via a functional diagram, which provides information about the operating condition at any time. If a dew point and ECO control system is additionally integrated, it is recommended that the control system be changed with a touch panel control unit. In accordance with our modular principle, various drying containers can be integrated in the EKO system.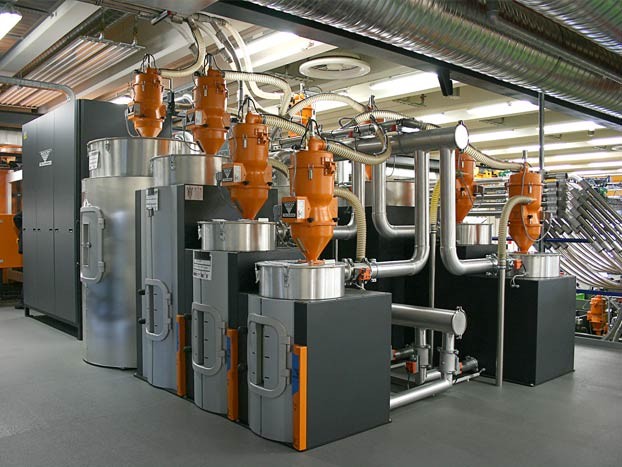 Stationary KOCH granule dryer type EKO 800: The drying containers are recessed into the floor of a mezzanine.
Characteristics of the EKO type:
Visually appealing design
Proven and well-engineered KOCH dry air technology for drying plastic pellets
110–800 m³/h dry air, depending on the version
Heat exchanger technology for the highest energy utilization
Maximum energy efficiency combined with an optional KOCH ECO control system
Drying containers (also called drying hopper) in various sizes available (integrated up to 200 l)
Modular design for trouble-free extension of a drying system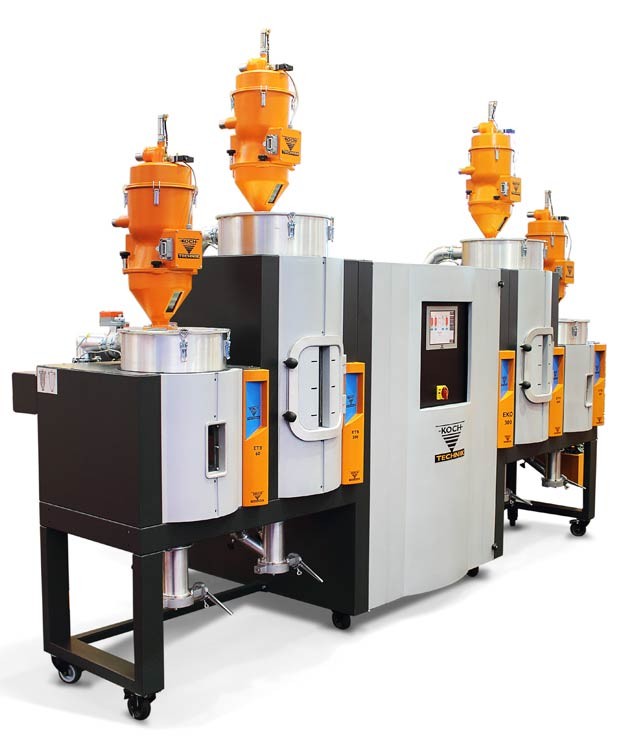 KOCH dry air dryer type EKO 300 for plastic pellets with integrated material hoppers for filling the drying containers.
| | |
| --- | --- |
| Dryer | Possible dry air quantity |
| Type EKO110 | 110 m3/h |
| Type EKO200 | 200 m3/h |
| Type EKO300 | 300 m3/h |
| Type EKO500 | 500 m3/h |
| Type EKO800 | 800 m3/h |